CEO's Message
Elchin Muradov, President of EL Holding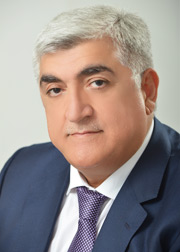 Dear customers, partners and colleagues!
As one of the big group of companies operating in various business sectors, we feel pleasure of our mission contributing to propserity of our country, development of entrepreneurship and improving welfare of our people.
Our companies established in 1988, early years of development of the private sector in Azerbaijan, today successfully operate in the areas such as food, industrial production, cargo transportation, trade and tourism. One of the significant spheres of our activity is representation of popular brands and high-quality products in Azerbaijan.
The economic potential and rapid development during the recent years as well as the strengthening image of our country as a reliable business partner stipulate the expansion of our work and international partnership. Committed to the business principles, we try to demonstrate excellence in all spheres and gain respect of our partners and customers by application of corporate governance system with our professional team. Sincerity, transparency, respect to values and customer satisfaction are the basis of our long-term partnership.
To raise the quality of our projects and upgrade the professionalism, our team actively participate in the trainings and conferences in the country and abroad. We regularly upgrade our technologies to comply with the international standards and apply nano-technologies. Today we are expanding our international activities, participate in various business projects in a number of countries and strive for expanding our strategic partnership.
The political stability and sustainable development of Azerbaijan stimulate new opportunities for our acitivites. We will further enhance our mission and supply our people with the premium goods by attracting new projects and resources to the country.